Bennetts Removals Blog
SEPTEMBER 1, 2017
CONSIDERATIONS WHEN CHOOSING YOUR REMOVAL FIRM
When moving home it can be tempting to cut back and to save money. One of the things that I recommend you absolutely do not scrimp on is a removal firm. Don't kid yourself into thinking that you can do it yourself, just don't. Yes, they can be very expensive; but if you hire a decent firm they are worth every last penny, and more. We considered cutting costs and hiring a van and doing it ourselves and I am so glad that we didn't. I genuinely don't think we would have been out of the house in time if we had done it all ourselves, I'm positive there would have been a lot more stress and I don't even want to think of the damage!
After researching local removal firms we hired Bennetts Removals*, a Which Trusted Trader based in South Wales. We took a lot into consideration when looking for a removal company and we met with four to five firms before deciding that John Bennett and his team were the firm for us. After a lot of research we decided to go for a smaller firm, we loved that the owner of the firm, along with his dedicated team, would be in charge of packing, removing and unloading our belongings. This instantly reassured us that everything would be well looked after; to small firms this isn't just a wage, this is their life, their business.
Once you have whittled your choice down to a few firms that you like the look of be sure to check their reviews on places like Facebook, Google and Yell. Also, are they members of any associations? If so, be sure to check their reviews there too.
Make sure that the firm come to your house to size up first. On-line quotes can be great to get a guide price, but firms will use the information provided on these forms to determine what truck that they need to use. If you under estimate you could end up with a truck that is too small for your belongings. Also, check if the mover provides their own boxes. If the mover comes out first they know exactly how many boxes to provide and if you need any specialist equipment for your moving day.
Ask questions, and lots of them. We wanted to know exactly how fragile items such as the TV would be packed. What furniture covers are provided? Bed covers, suite covers, floor protection, hanging robes for clothes – do they provide them?
You will be spending pretty much the whole day with your removers, be sure to go for someone who is friendly yet professional. The last thing you want is someone who is smoking on your front door step and leering at passers by. I'm not stereotyping – I have actually heard of this happening.
Once you receive your quote check it with a fine tooth comb for hidden charges. Does the quote include VAT? Are there waiting charges? We were shocked to check the small print on one of the seemingly low quotes that we received and find that it didn't include VAT. Once we added this on it became one of the more expensive quotes.
Lastly, but by no means least, remember that cheap isn't necessarily cheerful. Don't go ahead and book the firm who comes in cheapest just because they are the cheapest.
'A Slice of my Life' Blog link >>

'A Slice of my Life'
A real parenting and lifestyle blog bought to you from the South Wales Valleys.
Leanne Cornelius
30 something | Photographer | Blogger | Mama

Watch our videos
Watch our 'How we work' video below to see how we take the time and care to protect your home and belongings during a house move.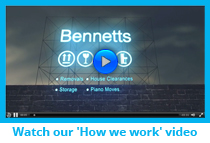 We can supply
packaging materials
If you're happy to pack your belongings yourself, we can supply high quality packaging materials. From boxes and tape to bubble wrap and packaging paper.
To order your packaging materials, simply click on the button below and complete the order form.