Specialist piano movers
Bennetts Removals have had many years experience moving specialised pieces for our customers. This includes antique furniture, clocks and pianos.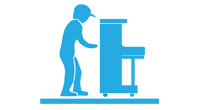 One of our specialities is moving your piano. We will carefully pack the piano with our protective covers and safely move it to the new location.
You can have full confidence in us to move your pride and joy.
One review from a happy customer after we had moved their grand piano:
"I am writing to say a huge thank you to John Bennett and his team for their superb work last Wednesday 13th September. Your approach was considerate and intelligent and I was impressed by how calm the moving of a grand piano from the first floor of the house turned out to be.

Thank you for a first class professional operation from start to finish."
~ Catherine Leaker
We also got a thank you tweet from Albert Primary School, when we helped them to move their pianos.
Bennetts Removals - Piano Move video



Follow us on…
Bennetts Removals Blog Page

Watch our videos
Watch our 'How we work' video below to see how we take the time and care to protect your home and belongings during a house move.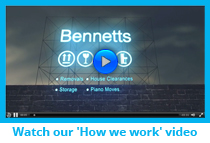 We can supply
packaging materials
If you're happy to pack your belongings yourself, we can supply high quality packaging materials. From boxes and tape to bubble wrap and packaging paper.
To order your packaging materials, simply click on the button below and complete the order form.


Request a call back

Why not also text a picture of your piano from your phone?
Text us a picture of your piano, include your name, to:
07968 539 383

Every move is different, so it's important that we arrange to visit your home or office to discover your unique requirements. We can then work out which services you require and provide you with an accurate quotion for your particular move.